Targeted Email Marketing is one of the best marketing channels to build lasting relationships with your customers and increase the sales of your eCommerce brand.
"Um, why should I use targeted marketing again?"
Great question. Here is why. Customers truly love it when they get personalized messages from brands. Don't believe us? Well, the numbers don't lie. 
Data shows us that 86% of the companies that were getting the highest ROI reported that personalized marketing made up to 21% of their total marketing budget. Yet a shocking 50% of marketers still don't use targeted emails. 🤦‍♂️
Let's fix that in this guide. Some of the things you'll learn:
What is targeted email marketing and why your business needs to start using it ASAP.

A complete guide on how to implement targeted email marketing to your business.

Our top 3 email marketing platform recommendations. 
The easiest way to start with email segmentation (even if you're currently not doing anything at all).
5 automation "buckets" to consider – plus examples of automation sequences within them. 
A quick n' dirty email analytics troubleshooting cheatsheet.

Plus a few examples of personalized emails, so you get your creative juices flowing. 
Hey – want even more e-commerce sales?
Learn 17 Proven Cognitive Biases (plus how to apply them to your e-commerce store) by tapping the big button below. 
What Is Targeted Email Marketing?
Now you must be wondering, well, this seems great, but what is it really? 
Targeted email marketing means targeting your customers with personalized messages relevant to them, and they are most likely to engage with. 
There are a lot of potential customers that will be in different stages of your sales funnel, so personalize your emails as much as possible to lead them to the best customer journey. 
But where do you gather information about your customers so you can personalize their experience? 
Glad you asked. Multi-step opt-in forms and your website are going to be the main sources. 
In your opt-in forms, you ask them for their email address so you can add them to your newsletter, but you don't need to stop there.
You can add multiple other screens to collect more data from your users. For example, what value proposition resonates most with them, what shopping preferences they have, what quantity of product do they own (which is a good proxy for their future purchase frequency), and more. 
Similarly, you can track their behavior and see what they are interested in,  based on their website and shopping activity. For example, we make a reasonable assumption that people who've viewed "jackets" more than 4 times in the last 7 days are likely to be interested in jackets. Just like people who've purchased jackets before. 
Why Is Targeted Email Marketing Important?
If you still aren't convinced, here are some reasons why you should start using targeted email marketing today. 
It's relevant.
Imagine the following scenario: Two girls are shopping in a mall looking for a dress. The salesman approaches them and says: 
"Welcome, check out our special offer sneakers collection that is on -30% sale this week." 
Are they going to buy it? 
Probably not. 
Now imagine this scenario: Two girls are shopping in a mall looking for a dress. The salesman approaches them and says:
"Welcome, I saw that you were looking for a dress. Here are our top-selling dresses for this season on -10% off."
Are they going to buy now?
They are definitely more likely to. 
It's simple. Nobody wants to see or click on something that is not relevant to them, and with personalized emails, you can avoid that. 
Higher engagement.
Since you are showing them relevant content of course they will open and click them more. Blasting your entire email list with the same message and expecting results doesn't work anymore. 
Your email is 27% more likely to be opened when it's personalized. 
And the more people open and click your emails, the better your deliverability rate gets. A good deliverability rate means that your messages will very rarely end up in the spam folder, even when you send them to inactive subscribers. 
Creates loyal customers.
Have you ever received a message for your birthday from a brand? I know I have. And it felt awesome. 
It's those little things that matter to your customers who are bombarded with all kinds of ads everywhere on the internet.  
And once they connect with your brand, it only gets better. 
Because it's a lot cheaper for a business to keep an existing customer than it is to acquire a new one. And as the old marketing rule says: "about 20% of your customers produce 80% of your sales." 
(Not really true, by the way, but it's still a useful heuristic. 😉)
Brings you more money (obviously). 
All businesses work for money. And as I said in the beginning, using targeted email marketing is pretty good at bringing you money. 
Email marketing has one of the highest returns on investment from all marketing channels, and when you combine that with personalized and targeted messages, you get sick results.
For instance, this Campaign Monitor article says that when personalized and targeted email marketing campaigns can drive up to a whopping 760% increase in ROI.
Targeted Email Marketing Guide
Now that you know why it's important, let's see how you can create an effective email marketing strategy.
1. Pick an email marketing platform
With so many email tools at your disposal, you cannot afford not to use one. 
Get one, build your email list and start creating segments, flows, and email campaigns right away. 
You will connect the platform with your website and pay a monthly fee depending on your number of contacts. But considering its high return on investment, that shouldn't be a problem.
In fact, if you're getting anything less than X30 return on your investment, contact us immediately. You're likely missing out on some critical pieces of the email marketing puzzle. We'll happily point them out after a audit of your email marketing program. 
There are hundreds of email marketing platforms today, so here are a few that we recommend:
Klaviyo

(best for e-commerce, comes with many useful reports and e-shop automation templates out of the box).

Moosend

(most flexible, very reliable, and with an awesome support team to get you started).

ActiveCampaign

(best for complex automation, more suitable for complicated sales cycles and information products).
You have your platform to work on, you added your contacts so what now? 
Email list segmentation. 
This means you should divide your subscribers into smaller and segmented email segments based on specific criteria. 
For example, you can segment them based on website activity, email engagement, shopping preferences, shopping behavior, and personal attributes. 
Basically, you want to segment them as much as possible so they can get better-personalized messages and you can build stronger relationships with them.
The easiest way to start is engagement-based segmentation. You want to create segments of people who've joined your list, engaged with your emails,  been to your website, viewed your products, or started checkout over specific timeframes.
People who did that in the last 30 days will be more engaged than people who did that in the last 60, or 90, or 120 days. 
And then you should add another layer to your segments, by dividing them into non-purchasers (or prospects), purchasers, and multi-purchasers (or, VIPs). 
Triggered emails are sent automatically after certain user actions, and personalizing them can be a huge needle mover. 
They make the readers connect with your brand which can later lead to customer retention.
We've found that most e-commerce marketers treat email automation in a siloed way. Treating each automation journey like an independent island.
However, in reality, email automation can be grouped into specific buckets, based on the purpose they serve, and where they are in the customer's journey. 
Here are some must-have types of email flows to give the best experience to your customers: 
Onboarding automation

: For example, this bucket can include a welcome email sequence, a customer profiling sequence, and even a sunset sequence, to filter out low-quality traffic.

Retargeting automation

: This bucket can include abandoned shopping cart email sequences, browse abandonment emails, site abandonment emails, and so forth. 

Post-purchase automation

: Including transactional emails such as an order confirmation email, and customer experience automation, such as emails describing how to make the most of the customer's purchase, collecting customer feedback, reviews, user-generated content, and more.

Re-engagement automation: Including personalized rebuy automation to capture second, third, or fourth orders. Offers triggering to prevent users who stop engaging from churning, content series designed to nurture users, and so forth.
Experiential automation

: Delightful experiences, such as a happy birthday email, a shopping anniversary email, personalized plain text email check-ups, and so forth. 
4. Personalized Email Content
The next thing you need to do is create personalized content based on your customer's behavior, shopping preferences, website activity, and personal attributes. 
In other words, every subscriber should be automatically receiving personalized content from your email automation. 
For example, if somebody put a shirt in his cart and then abandoned it. Your abandoned cart email series should look something like this: 
 Hey, did you forget something? Come back and order the shirt that you wanted 😃
This way, you remind people of the exact thing they wanted to do, and they are way more likely to complete that purchase than they would be if you just send them this generic email: 
Hey, did you forget something? Come back and finish your purchase 😃 
The truth is, most people won't even remember what they were doing on your page or what your page was about.
Your click-through rates might be bad, but that doesn't have to mean that your email marketing campaign sucks (although it might). Maybe your subject line is just not appealing enough for your audience.
Well, you will never know if you don't test. 
Run A/B tests on your campaigns before sending them to see what your customers like and what they don't. 
Here are a few red flags that mean something is wrong:
❌Problem: Low conversion rate – the percentage of people who opened the email and completed the desired action is low.
✔️Fix: Review segmentation, content, and offer.
❌Problem: Low click-through rate – the percentage of people who clicked on the email vs the people who opened the email is low.
✔️Fix: Check how the subject line matches the content.
❌Problem: High bounce rate – the percentage of total emails that could not be delivered to the recipient box and usually end up in the spam folder is high.
✔️Fix: Clean your list more often and review your segmentation rules.
❌Problem: High unsubscribe rate – the percentage of people that unsubscribed from your list after opening a given mail is high.
✔️Fix: Check timing, frequency, and (again!) review your segmentation.
Examples of personalized emails
Here are a few examples of personalized emails to inspire you.
1 )  Clinique – Happy Birthday Email
It's always great when you get a birthday message.
What's even better?
A birthday gift.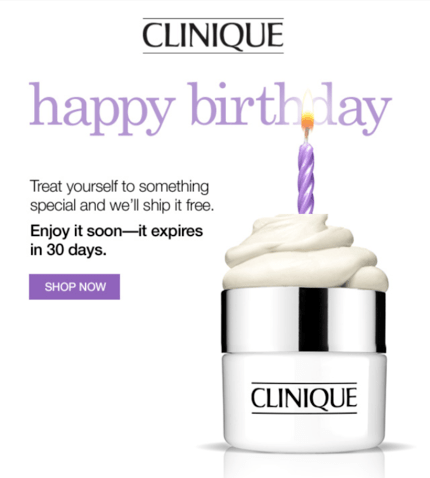 2 ) Autoplicity – Browse Abandonment Email 
A relevant offer with a little humor never killed anyone, right?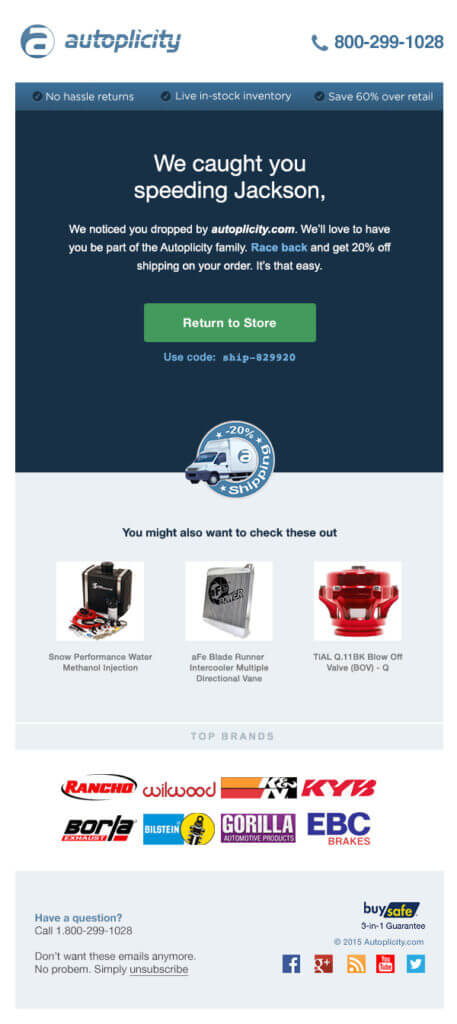 3 ) Virgin America – Welcome Email 
That is some on-point customer service 👌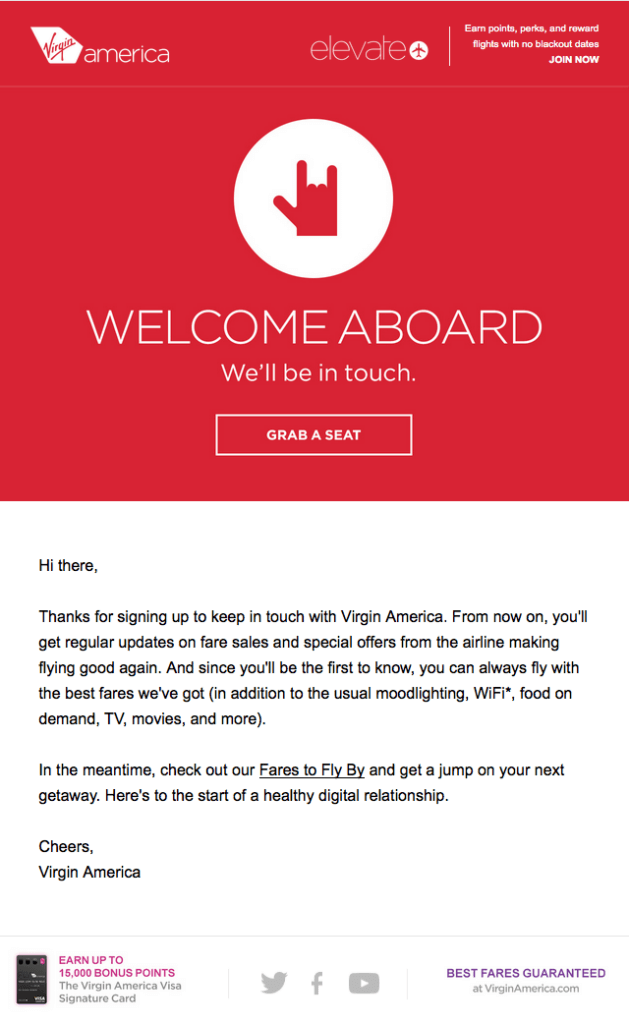 4 ) Automotive – Campaign 
Personalized offer + engaged subscriber = 
Everyone is happy!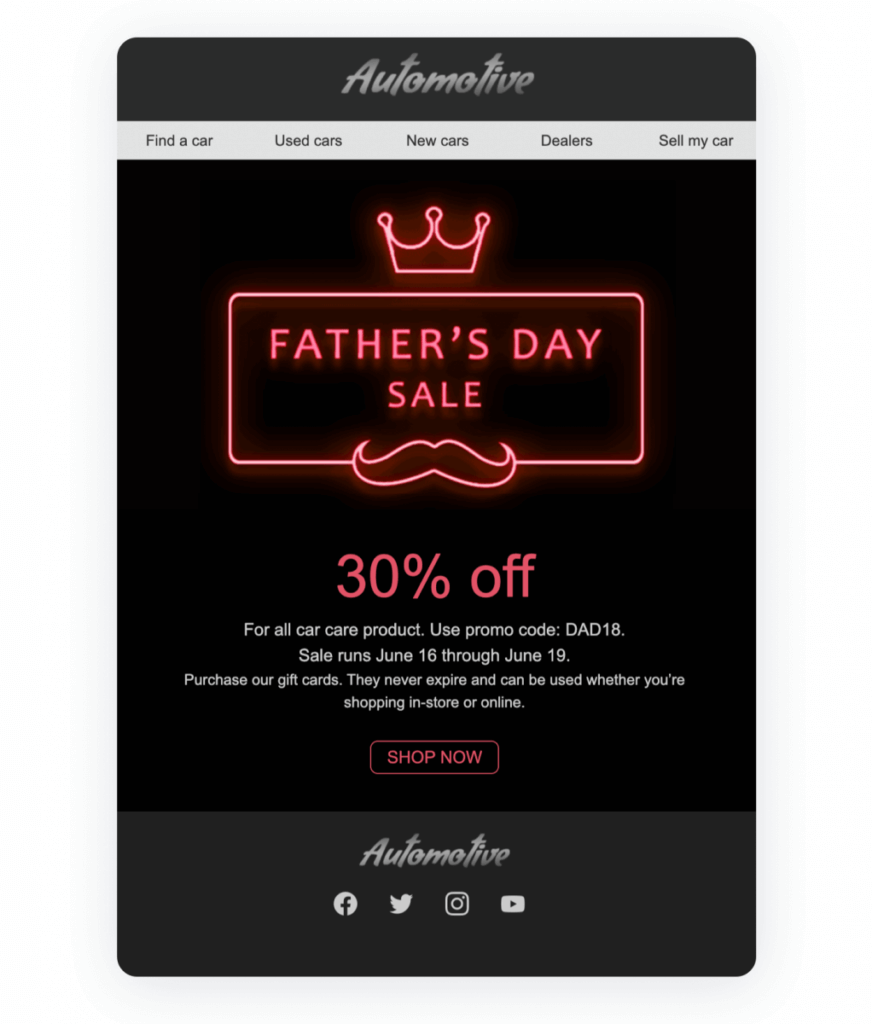 Okay, let's wrap this up. 
Email marketing is still one of the best marketing channels around. Shockingly, more than 50% of marketers today STILL don't use targeted emails.
Blasting your whole email newsletter list won't cut it anymore.
If you want to have the most effective email marketing program possible, you better start targeting. Targeting your automation and campaign emails is a no-brainer. 
We gave you a few ideas to focus your marketing efforts and personalize as much as possible. From the email subject to the CTA button the more you personalize the better customer experience you give.
Try these simple tips. Then watch your results accelerate right in front of your eyes. And when you're ready to experience even more growth, reach out to us. 
We'll happily audit your account and provide you with a personalized strategy.