How We Helped An Eyewear Brand Scale To 6-figures, Earning 57.75$ Per $ Spent On Email Marketing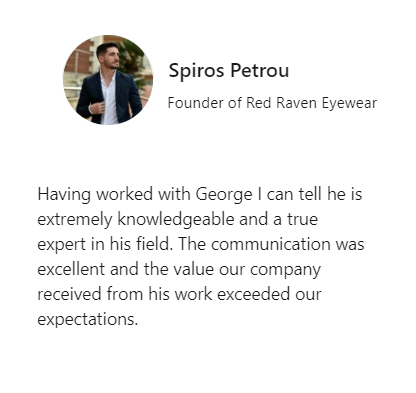 How about a fun detour? If you speak Greek, head over to this podcast and listen to Red Raven's Founder raving endorsement of our work. >> Start at 34:40.
About Red Raven Eyewear (ЯRE)
Red Raven Eyewear (ЯRE) is an eCommerce brand, providing super fashionable, modern sunglasses at affordable prices. ЯRE regularly renews its collections, being the first to bring the most fashionable designs to Greece, while respecting the CE certification.
Red Raven Eyewear was winning. They had the ultimate advantage: Product-market fit. The Greek market was responding well to the brand's modern designs and lifestyle-first marketing approach. However, the challenge was that the store's growth was largely fueled by the Founder, who was strong in media-buying. That put a hard limit on the brand's potential to grow. 
The ads were impossible to scale after a certain volume. Exploring new channels like YouTube and Google Ads wasn't going as smoothingly as Red Raven hoped and growth was starting to halt. When we started working with the brand, we decided we'd focus on tackling two main challenges.
First, we'd make the email marketing channel a big revenue and profit contributor. This added cash in the pocket would then allow the brand to reinvest more in advertising, scale its social, and diversify in new channels more effectively. 
Secondly, we'd do everything in a fully automated way. Not just the core automation like cart and checkout abandonment. But also more advanced journeys, such as passive user research, review collection, and even highly personalized, plain-text "check up" campaigns (a shockingly underutilized technique to enhance the shopper's experience and boost deliverability). 
↯ Charting The Path To Sustainable Growth.
#1: Lead Capture That Converts Visitors To Subscribers At 20.5% (And Topping At 38%)
A huge buying block for shopping for sunglasses online is the inability to know whether they'd fit your face without trying them on. Working together with the brand, we developed an on-site "quiz-like" experience that allowed the users to select the most appropriate glasses based on their facial bone structure and gender. 
It was a campaign that matched the user's needs perfectly. Even though we hacked it together in a couple of hours using nothing more than WordPress's Elementor Pro, the results speak for themselves. 
The campaign topped at 38% conversion rate and averaged a 20.5% conversion rate over a 7 month period. 
But here's the best part. We used this opportunity to also collect zero-party data from the subscribers. In the future, this means we'd be able to make personalized recommendations, based on the user's gender and facial structure.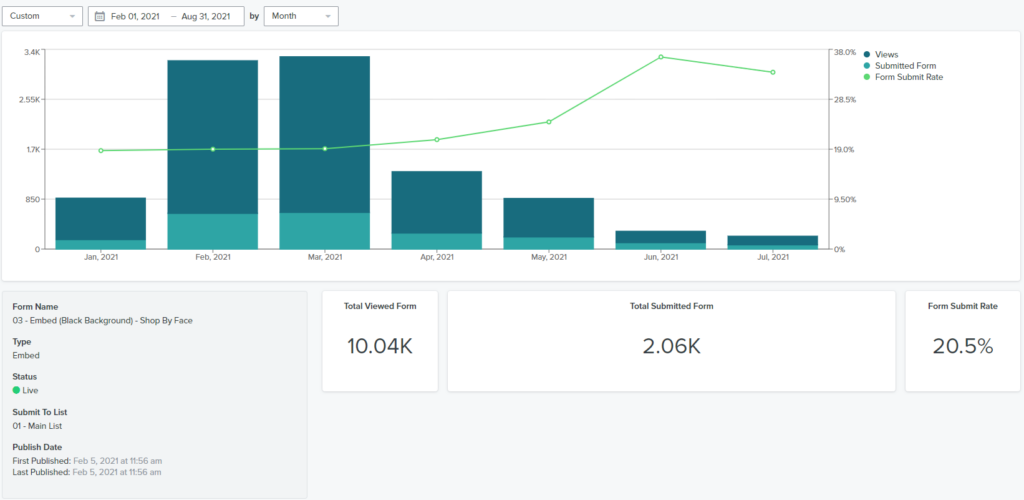 #2 – Automated flows – the answer to monetization and relevance.
First, we created the core e-commerce flows. This included retargeting automation, such as cart and browse abandonment flows. It included onboarding journeys for new subscribers and post-purchase sequences that ensured the shopper's expectations were met.  The difference is in how we executed these automations.
Online shopping lacks the human touch offered in brick-and-mortar stores. Apart from that, when it comes to eyewear specifically, each subscriber has different needs and styles. Even though the price point is not high, there is anxiety. 
The way we alleviated that anxiety was through highly personalized content. The automations pushed new sales, yes, but they also checked how the shopper was doing, whether they were happy with their purchase, what new products the brand ought to develop, and more. 

The Greek e-commerce market is thriving, but years behind in marketing innovation. This was a highly unusual experience for Greek shoppers. They responded in an extremely positive way. First, by shopping. In as little as 90 days, email marketing was contributing 20% to the store's total revenue. Secondly, by replying to the brand's emails, giving feedback, reviewing products, and actively engaging with the brand's content in other channels. 
The above mentioned strategy allowed us to:
So, what happens when you have a good product and price point, a customer-centric brand founder who "gets" digital marketing and a fully automated, personalized email marketing strategy?
You get a 57.75$ return on investment. Beating similar store benchmarks by 25.5 % in 90 days… hands-free.
You also get a self-improving system to understand your customers better, at scale. Strengthening the hold on your customer base and giving you the tools you need to push new growth. 
The bottom line: Red Raven was able to grow at scale without throwing money at wasted efforts. 
Results achieved in 90 days of starting
Is this a happily ever after?
Not really. A well-oiled email marketing strategy doesn't go out of fashion but it's ALWAYS subject to analysis, testing, and optimizing. The above was just the start. You can always continue to drive bigger learnings and bigger financial wins. It's what we strive to do for every single one of our clients. Just like we could, potentially, for your brand too. 
Getting started is easy. We'll have a short, no-obligation call to meet each other. If we're not a good fit for whatever reason, we will refer you to an agency that can serve you better than we could. If we are, we'll start with a quick audit of your email program. If you're thrilled with the results of that audit (experience shows you will be), we'll sign you up on a monthly retainer, and start implementation right away. 
Let's talk. Trust us. We can likely help.